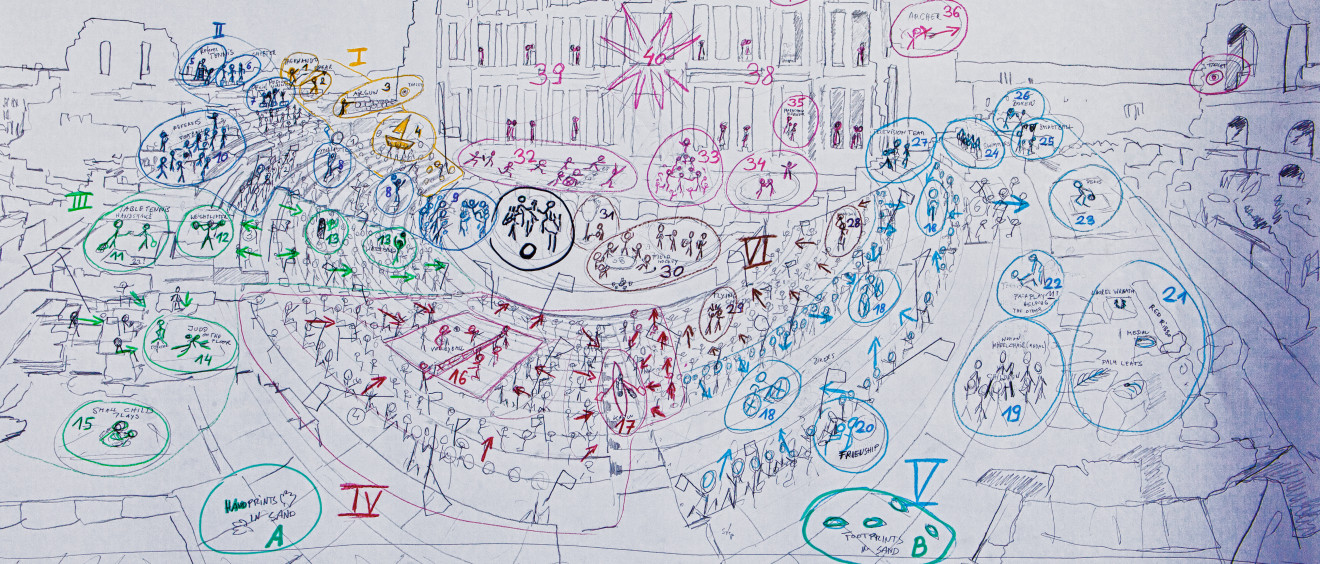 Outlines Of "The Fairy Play"
Project Title: "The Fairy Play Sabratha – a living illustration of the Olympic Spirit & Values"
01.  Objectives
The purpose of the project is to use visual art (photography and film) as a voice for reflecting Spirit and Values of Sport Culture. Keeping it in mind that those values represent the basis for freedom and the development of human beings in all societies, the project is based on a sustainable and innovative educational approach.
02. Description
Thanks to the international acknowledgment and success achieved by "the children's play" & "the human rights project" (www.thehumanrightsplay.com) the idea of this project came to life, this time focusing on Storytelling the Olympic Spirit & Values. The project is a visual interpretation of the power of sport in line with the IOC mandate of Olympic Education and Culture.
The project was realised in cooperation with the Libyan Olympic Academy, over 50 athletes and about 200 children from two national schools and local scout movements in Sabratha, Libya in June/July 2012.
The result is a highly complex staged photographic work in a large-scale format: a visual message about Respect, Excellence, Friendship, Courage, Determination, Inspiration and Equality within sporting culture (about 25 Olympic disciplines can be discovered on the picture…)
03.  Actuality and History
Values of fair play, free spirit and respect are visualised in this colourful staging and the short movie. Universal ethical values were at the heart of the Arab Spring that recently shook the political powers in the region and the young people of Libya, including athletes, stood solid and strong for these values, seeking freedom, unity and justice. The endorsement of this project in Libya witnesses this free spirit for all. The Olympic Truce and Peace through sport are among the values echoed and announced within this project.
The project aims to support the building of a peaceful Libya by educating youths about the Olympic Spirit without discrimination: a new life full of prosperity that requires mutual understanding with a spirit of friendship, solidarity and fair play.
Cultural heritage is promoted by setting the project amid the impressive scenes of the historic theatre of Sabratha, a UNESCO World Heritage Site and one of the most spectacular and unspoiled Roman ruins in the Mediterranean with its ancient sporting facilities that still stand intact: swimming pools, running tracks and arenas. They encompass this strong link between old and new. These archaeological sites have the chance to "live" again in the same spirit of their original purpose: as a ground for the local games of our ancestors.
The Fairy Play Sabratha was purposefully staged in the historic theatre rather than in the sporting facilities to emphasise the project as a "play" and to open up possibilities of symbolic interpretations.
The project aims to fuel follow-up works, including new productions in other relevant locations in the Mediterranean that combine artistic and cultural dimensions in co-operation with local communities and youth organisations.
04. Impact
The result of this process is a unique staged photography and a short film – a living illustrations of Spirit & Values of Sport Culture settled in the African Continent and surrounded by ancestral civilisation.
The project is an exciting expedition into a visual interpretation of Olympic Values: respect, excellence and friendship.
The project is settled on a culture and education level: utilizing cultural sites and educating participating schools and young athletes about Olympic Values and preservation of cultural heritage.
The project implementation in Libya includes a consideration of the Olympic Truce and Peace & Sport
Women in Sports are promoted through female participation.
The project reflects on the Paralympics and its values: courage, determination, inspiration and equality.
The project focuses on all cultures despite age, colour, sex, education and religion.
05. Expected outcome
Olympic values education for young people is achieved on the field by presenting and accomplishing the project in cooperation with local communities and a team of artists. Schools and sport associations will have lectures and Olympic Education on the ground (an estimated 200 participants). Having them to act as players for the artwork will insure a deep impact; this new teaching approach will guarantee a lasting legacy.
Display and diffusion of the visual results (photography and film) will trigger and promote public debate about the meaning of Olympic values and spirit, including on the human level. Moreover, the creative outputs of the project can be used for educational purposes as an artistic and intercultural exchange on the topic of Olympic Spirit & Values.
In a medium to long-term strategic development, the project can easily be spread and readapted in new locations with this model of partnership involving local NOC's.
06. Project Key Phases
May 2012:                                              Preparation and funding for a last minute production in Libya (in cooperation with LOC, LOA)
June 2012: Production of the first implantation of the project in Libya
July/August 2012: First display of the "The Fairy Play Sabratha" at the Africa Village and/or Libyan House during the London Olympic Games 2012.
Before 2016:                                                                Mid-term follow-up of the Project, new productions on other relevant locations that combine artistic and cultural dimensions in co-operation with local communities and youth supporting organisations.
07. Publications
Distribution of flyers, postcards, posters of the project at the Africa Village and/or Libyan House at the London Olympic Games 2012.
On a mid- to long term level: publication of a picture book about the Values and Spirit os Sport Culture, puzzles, exhibitions, displays, creative educational tools, workshops, …
08. Realization The Fairy Play Sabratha
Project Director: Marwan Maghur, Secretary General, Libyan Olympic Committee

Artistic Director: Lukas Maximilian Hüller, photographer

Film: Hannes Seebacher, artist

Project manager: Amelia von Kageneck, International Lawyer
Coordination stage & athletes Libya: Haffed Gritly, Director Libyan Olympic Academy
Project coordination Libya:  Hussain Jerbi assisted by Jalal Eljadi
Set management Libya: Teresa Lehner
Participants: national schools and local scouts Sabratha & athletes Olympic Academy Libya
Supporters: children of Sabratha, city of Sabratha, archeological site of Sabratha
Sponsors Production Libya: Oasis Motors – BMW Libya & CANON Austria
Partners: Libyan Olympic Committee and Libyan Olympic Academy
Project producer: Osama Omar Muttawa Sweli
WHO WE ARE
The Libyan Olympic Committee (LOC) will be promoting this project in line with the Olympic Spirits and Values. The LOC had competence in providing local support through its team of experts and the Libyan Olympic Academy for the accomplishment of the project by focusing on the educational aspects. Its presence on the field and its long participation in the Olympic Movement will ensure a sound and consistent outcome the project.
Lukas Maximilian Hüller did perform the project in Libya with his team in June/July 2012 and will pursue the follow-up of this project in London, including future related events.  Born in Austria, he is an international acknowledged photographer and artist. From 1989 to 1995 he studied photography at the "Ecole Nationale Superieure des Arts Visuels de la Cambre" (Brussels, Belgium). Lukas Huller's work is questioning human, cultural, religious and social themes of living societies. In 2010, together with others artists, he established the cultural organisation Human
R. Belgium and in 2012 the association Fairy Play Austria, both non-profit organisation to conceive artistic projects to give a voice to humanitarian, educational and social matters. Lukas Hüller's work is represented by international art galleries and is on display worldwide.
Hannes Seebacher born in 1969 in Tirol/ Austria. Self-taught artist since 1996, leads the way through the painting and sculpture to installation art. From 2010 he workes mainly as a filmmaker with Lukas Maximilian Hueller.