About "The Right To Be A Child"
A co-operation of KULTURSPIEL Austria with ubuntu the cultural initiative of SOS CHILDREN VILLAGES
initiiert und umgesetzt von
LET THE CHILDREN PLAY Initiative
LUKAS MAXIMILIAN HÜLLER & HANNES SEEBACHER
Kevin Harrison, Sami Ajouri, Laurent Van Wetter, Walter Waltz Anyanwu, Peter-Matthias Pflug
Das Projekt DAS RECHTE EIN KIND ZU SEIN basiert auf der kreativen und spielerischen Zusammenarbeit mit rund 500 lokalen Kindern und Jugendlichen in Hall in Tirol – sie alle sind TeilnehmerInnen, AktionistInnen und auch die ProtagonistInnen der Initiative.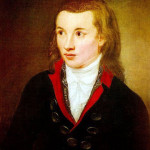 Novalis
Poet, author and philosopher / (1772 - 1801)
Playing is experimenting by chance
Watch The Project
The Right To Be A Child - Hall, Tyrol
Making Of
"The Right To Be A Child"
Learn more about the project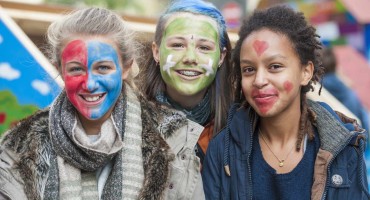 This plain language version is only given as a guide. For an exact rendering of each principle, refer to the […]
Read More

›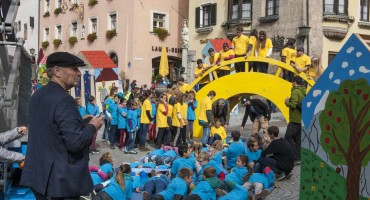 Die "LET THE CHILDREN PLAY Initiative", eine Gruppe internationaler Künstler rund um den österreichischen Fotografen Lukas M. Hüller und dem […]
Read More

›
MAKING OF / 10 little houses… …each one representing one of the 10 principles of the Children Rights 1. The […]
Read More

›
Partners of The Right To Be A Child Project
EISENKIES GesmbH & Co KG
SWAROVSKI
LAND TIROL, Abteilung Kultur
LAND TIROL, Abteilung Gesellschaft & Soziales
STADT HALL
SOS-KINDERDORF ÖSTERREICH
HERMANN-GMEINER-STIFTUNG MÜNCHEN
TOURISMUSVERBAND HALL-WATTENS
DINKHAUSER KARTONAGEN GmbH
WE-ARE.TRAVEL
BINDERHOLZ GmbH
ALOIS MAYR BAUWAREN GmbH
ADLER-WERK LACKFABRIK Johann Berghofer GmbH & Co KG
TUSCH Installations GmbH
CANON Austria
.

.
CO-OPERATION PARTNER
ubuntu – CULTURAL INITIATIVE OF SOS CHILDREN VILLAGES
.

.
PARTNERSHIPS HALL in Tyrol

THE CITY OF HALL i. T.
FRANZISKANER HIGHSCHOOL Hall
BIWAK Hall
KINDERGARDEN SCHLÖGESLSTRASSE Hall
.

.
SPECIAL & PERSONAL THANKS to:
Julia Sparber, Elisabeth Gottfried, Kilian Kleinschmidt,
Dr. Wilfried Vyslozil, Dr. Christian Honold, Dir. Gerhard Sailer,
Prof. Doris Schumacher, Prof. Susanne Jäger, Prof. Patricia Staudegger,
Barbara Schatz, Mag. Efendi Onay, Botschafter Peter Launsky-Tieffenthal,
Dr. Erhard Busek, Dr. Franz Fischler, Dr. Eva-Maria Posch,
Johannes Tusch, Barbara Minatti, Joe Loreck, Gerhard Berger,
Kurt Keinrath, Andreas Ablinger
Daniel Monz and the staff of Bauhof Hall

LET THE CHILDREN PLAY Initiative PARTNERS
Kilian Kleinschmidt & SWITXBOARD
.

.