Equal Dreams: The right of all children everywhere
Child refugees are the most innocent and voiceless victims of conflict and other crises.  As part of its 40th anniversary commitment to highlighting the plight of refugees, OFID's Equal Dreams campaign places the needs and rights of the child firmly in the spotlight.
by Reem Aljarbou and Nadia Benamara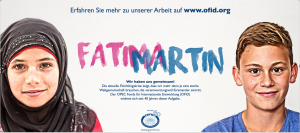 All children have dreams.  Today, more than half of all refugees are children; which means that over 30 million children worldwide can only dream of securing a stable home and future.  Displaced by war and other ongoing emergencies, these children are losing access to essential rights, including their right to receive an education and to play.
OFID's Equal Dreams campaign aims to shed light on the obstacles children face when their lives have been so disrupted.  The campaign title refers to the UN Convention on the Rights of the Child, which explicitly recognizes the right of every child to engage in cultural, artistic and recreational activities.  By addressing the current refugee crisis from a child's perspective, OFID hopes to promote the incontrovertible equality of all children's dreams.
"Unless we reach these children now with assistance to protect them from violence, abuse, and exploitation, education to foster their minds and their resilience, and support to heal the hidden wounds of a merciless war and strengthen social cohesion, the hopes of an entire generation could be lost forever."
– No Lost Generation Campaign, UNHCR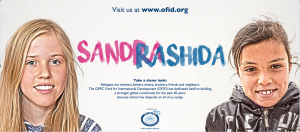 Mid-March, OFID rolled out an associated media campaign in its host city, Vienna, which has become a key transit point for the roughly 1.1 million refugees who have arrived on European shores since 2015.  One-third of them are children.
Embedded alongside coupled portraits of children from contrasting backgrounds is a simple message of solidarity.  Its overriding objective is to counter prejudice and highlight the universality of human aspiration.
English and German language versions of the campaign are currently being channelled online as well as through print magazines, video screens at Vienna's international airport, streetcar exteriors and advertising pillars around the city's central Ringstrasse, and on the facade of OFID headquarters.
Equal Dreams was conceived in partnership with the international Child of Play initiative founded by Austrian artists Lukas Hueller and Hannes Seebacher.   Refugee children were photographed onsite at the Zaatari camp for Syrian refugees in Jordan.  Austrian children participated courtesy the Oeffentliches Gymnasium der Franziskaner in Hall, Tyrol.
The campaign officially kicked off at OFID headquarters in Vienna, Austria, January 19.  Addressing OFID staff and a small number of special guests, OFID Director General Suleiman J. Al Herbish focused his opening remarks on the Tree of Hope exhibited in OFID's atrium.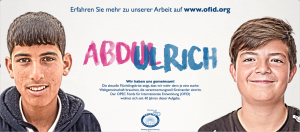 An enormous scale photograph of the Zaatari camp for Syrian refugees in Jordan, the Tree of Hope is a stunning picture precisely because it is a staged picture; a utopian vision created together with some 350 refugee children, who were given a chance to actually be children.
"We display this beautiful work here to signify and emphasise our commitment to the tragedy unfolding around us," said Al Herbish.
Gazing at the picture every day anew had led him to a simple conclusion:  "It is a wake-up call, but we have been living with the plight of Palestinian refugees for more than 65 years, so I don't know how many more wake-up calls we need."
Tree of Hope is the outcome of a multi-week creative workshop developed and implemented by the Child of Play initiative.
Child of Play encourages every child's right to play whilst instilling universal values of tolerance and understanding amongst marginalised children and youth in particular.  Child of Play thus aspires to help build better integrated, more sustainable communities.
Founder, Lukas Hueller, detailed one of the challenges they encountered at Zaatari camp, which is host to some 60,000 refugee children.
The artists had been working with a select group in a fenced-in area when children outside the perimeter started pelting them with stones.
Unsure how to handle the situation, the artists spontaneously decided to open the gates.
"All the kids outside just dropped the stones and ran into the zone, screaming, because they just wanted to play," said Hueller.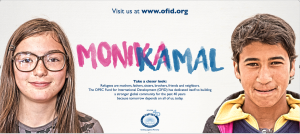 Renowned humanitarian aid worker, Kilian Kleinschmidt, who managed Zaatari camp as part of his 25 year tenure with the UN refugee agency, UNHCR, drove this point home.
"The children of Zaatari taught us that one of the most shocking consequences of displacement and poverty is that children lose their childhood.  Children lose the capacity to actually act as children."
Children currently constitute the largest group of displaced people in the world.  According to Kleinschmidt, our world will break unless we can provide these lost generations with hope, humanity and perspectives for their future.
"My appeal here is to get away from charity and move towards a sharing economy," said Kleinschmidt.  "[We must] share the know-how of technologies; share what we have learned.  Somewhere in the world, there is a solution to all our problems."
Congratulating OFID on four decades of progress, he concluded:  "Your organization has achieved a lot.  Your organization will achieve a lot.  But we can only do that all together, as the world community."
Following the talks, guests were treated to a bravura performance by Dominican violinist, Aisha Syed Castro, and her English accompanist, pianist Craig White.
"It is through the eyes of children that we will see the suffering of the people."
Kilian Kleinschmidt