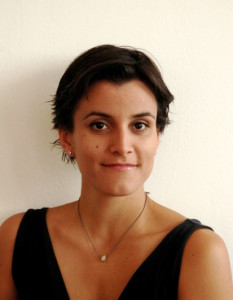 "If a child can't learn the way we teach, maybe we should teach the way they learn."
Ignacio Estrada
Ana is Potuguese of origin, she lived for several years as educationalist on Cape Verden Islands where she joined the CHILDREN'S PLAY project as set manager back in 2011. Ana did teach at the Colégio Semear from 2012 to 2014, was coordinator of the TED conference circle and manager and director of the schools theatre club. At the EB1 Infante D. Henrique she was English teacher in 2012, and before that at the Colégio Nova Cultura. Ana coordinated educational projects for the NGO Delta Cultura education center and supported them as assistant manager from 2010 to 2011. Ana speaks several languages and supports CHILD OF PLAY in developing workshop programs for children's creative evolution.
I believe a child's learning process is dependent on how far our teaching process is willing to bend. Teaching needs to be a task that is done for the child, not a chore that is built for the teacher.
Often, schools are seen as a stage for teachers to perform, to pass on information, which the student is expected to receive without question. Some schools do value the student's point of view, but in those schools most of the traditional ways of teaching are completely cast aside, including its classroom rules and organization methods. But, I think it doesn't have to be like that. The richness of the teaching/learning process lies in the unlimited combination of experiences.
I am a strong defender of combining different methods and I tend to use a little bit of every approach I know in my classes. I want to make learning fun and I want my students to remember the time at school as the best of their lives.
In 2015 I started a project which aims to gather and share information and ideas with other schools and educators around the world so to later create a school where methodologies, pedagogics and philosophies meet in order to focus on the student, as an individual, and on his/her learning needs, while making the whole process as fun as possible for them and for the teacher.